The content below is taken from the original ( Reduce IT overhead with HP Device as a Service (DaaS) and Chrome Enterprise), to continue reading please visit the site. Remember to respect the Author & Copyright.
Whether troubleshooting issues with end users or setting security policies to protect corporate data, IT admins are at the helm of many complex and business-critical tasks. In August, we announced Chromebook Enterprise and improvements to the Google Admin console to better support IT admins by simplifying their daily workflows and making the modern OS more accessible to all types of workers.
Today, we are partnering with HP to help ease IT administration by announcing Chrome Enterprise support within HP's Device as a Service (DaaS) offering. With HP DaaS, Chrome Enterprise admins gain access to hardware insights, proactive management, and flexible financing and support options to offload many day-to-day IT tasks. HP DaaS will start with support for three Chrome Enterprise devices, including all the business capabilities built into Chrome OS. Together, HP & Google bring IT admins scalable products to assist with their fleet, while opening the door for embracing even more cloud-first business services. 
HP DaaS: Hardware insights, proactive management, and flexible financing and support options
Google and HP's collaboration on DaaS helps small businesses and larger enterprises alike scale IT capabilities and meet business needs.
HP DaaS provides IT admins with hardware insights, powered by HP TechPulse analytics that help identify and mitigate issues found throughout a device fleet, such as failing batteries or devices with low storage space. In addition, customers can offload day-to-day management tasks with proactive management, offered by HP service experts or authorized HP partners, who set security policies and perform daily management on behalf of their customers. Finally, with flexible financing and support options, IT admins can easily scale their device fleet up and down depending on organizational needs and can get access to hardware support when troubleshooting assistance is needed.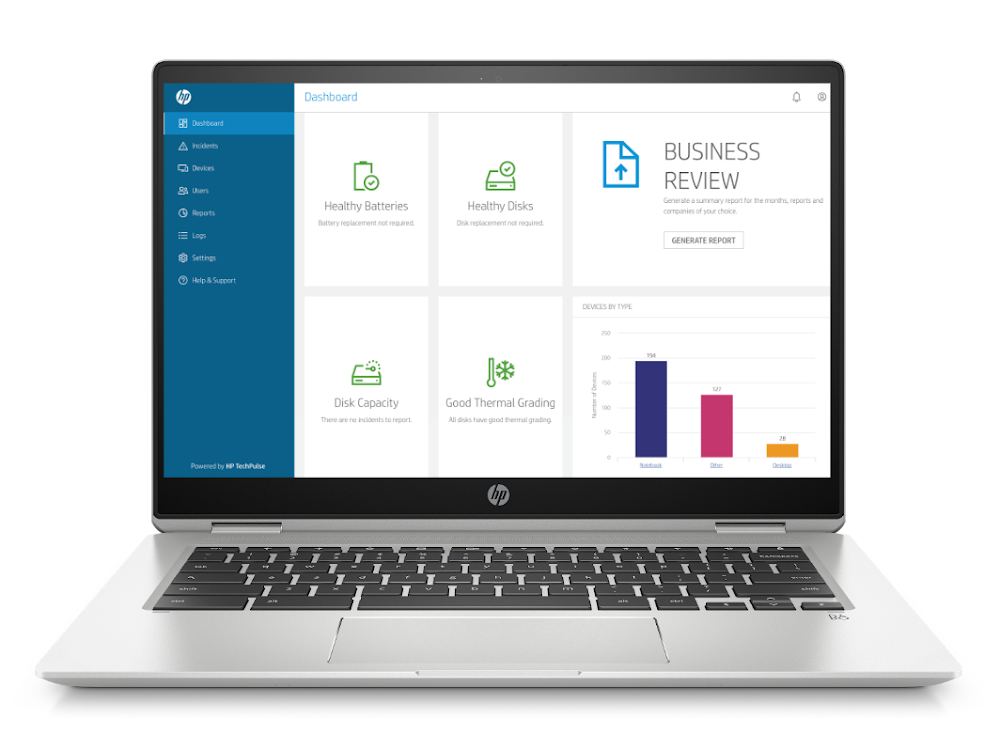 Introducing HP's Chrome Enterprise devices:
Chrome Enterprise devices come with the capabilities required for business users right out of the box, without the need for further purchase of Chrome Enterprise Upgrade. Today, HP will begin to offer hardware as Chrome Enterprise devices, which will also be supported by HP DaaS. These devices include: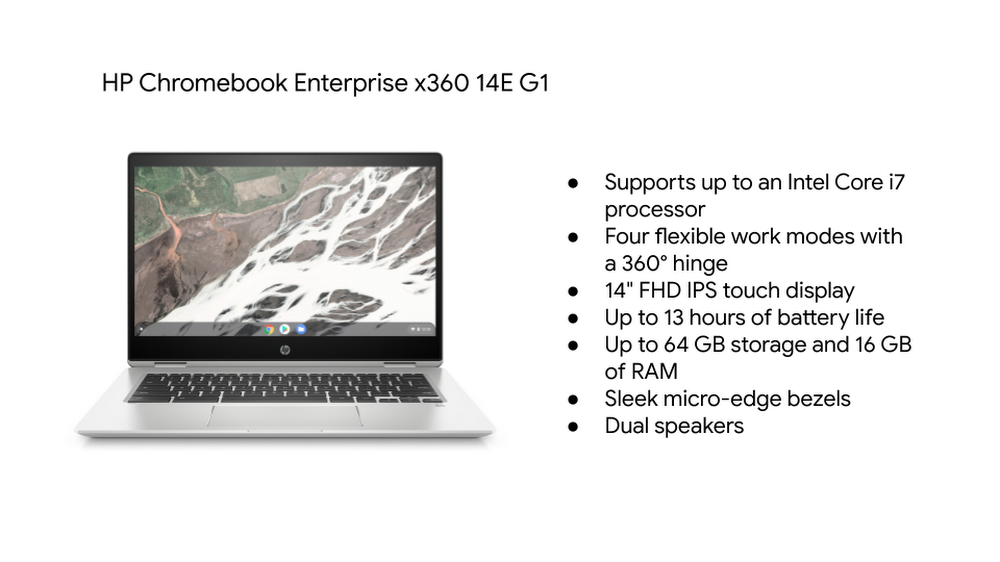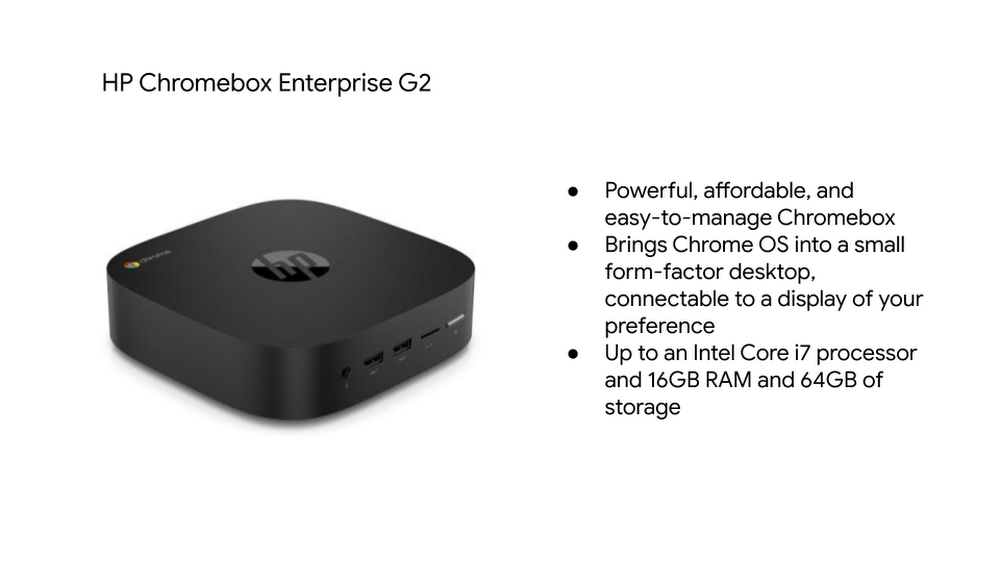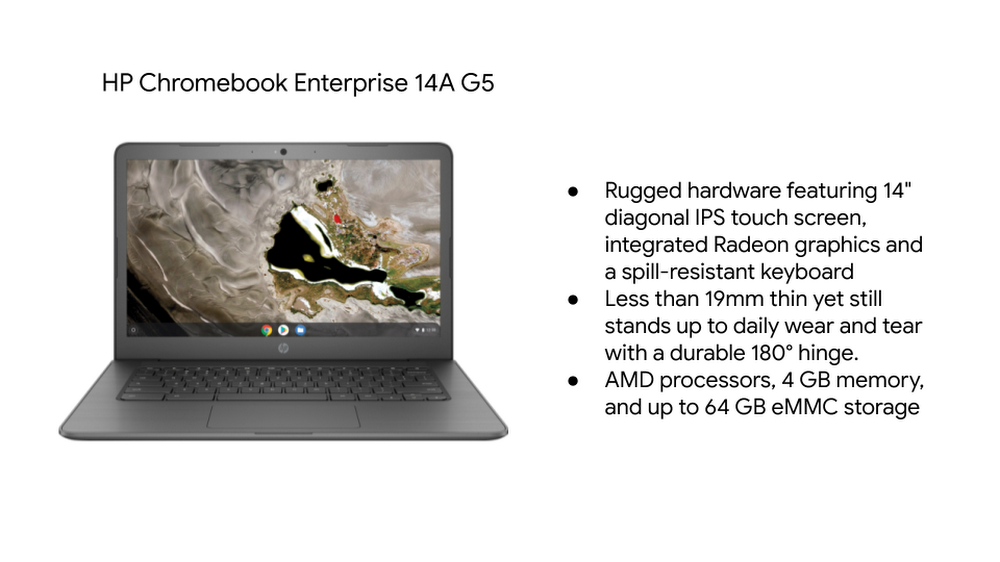 The HP Chromebook Enterprise x360 14E G1 and HP Chromebook Enterprise 14A G5 are planned to be available in October. The HP Chromebox Enterprise G2 is planned to be available in November. All three devices are planned to be available through HP DaaS in November. You can learn more about HP Chrome Enterprise devices at HP's site, and more about HP DaaS here.
Learn more about Chrome Enterprise.