The content below is taken from the original ( A simple, secure way for teams to meet and work: G Suite Essentials is here), to continue reading please visit the site. Remember to respect the Author & Copyright.
Video meetings have never been more important than they are right now. They're how we get work done and, increasingly, how we socialize and stay connected with loved ones. It's why we recently made Google Meet, a service we originally built for secure business meetings, free and available to everyone with a Google Account.
Over the past weeks we've heard from organizations of all sizes that Meet is helping them stay connected, whether it's CEOs hosting town halls, sales teams working with clients, or employees holding one-on-one virtual coffee chats. Netflix, a long-time G Suite customer, told us they used Meet to make the shift to remote work, which led them to trust Meet for the important task of holding their earnings call from various executives' homes in April. Our team worked with Netflix to understand their needs and provide best practices for using G Suite to help them stay connected during COVID-19.
Many companies and organizations have complex needs like this. Some might need to stream a large meeting to thousands of employees, and others might need to record a video training session for those unable to attend. So for organizations, we have launched G Suite Essentials. It includes our most advanced video meeting capabilities, but it's more than just video conferencing. 
In times like these, you also need to be able to work with your team in real time, as if you were standing at a whiteboard or marking up a document together. That's why G Suite Essentials also includes the professional-grade versions of Google Drive, Docs, Sheets, and Slides. These pro capabilities, for example, include "shared drives"—one home for all of a team's content—and Drive File Stream, which gives you access to large amounts of content while consuming minimal hard drive space. All these features and apps are tightly integrated, so it's easy to present to a video conference and collaborate on a doc, simultaneously.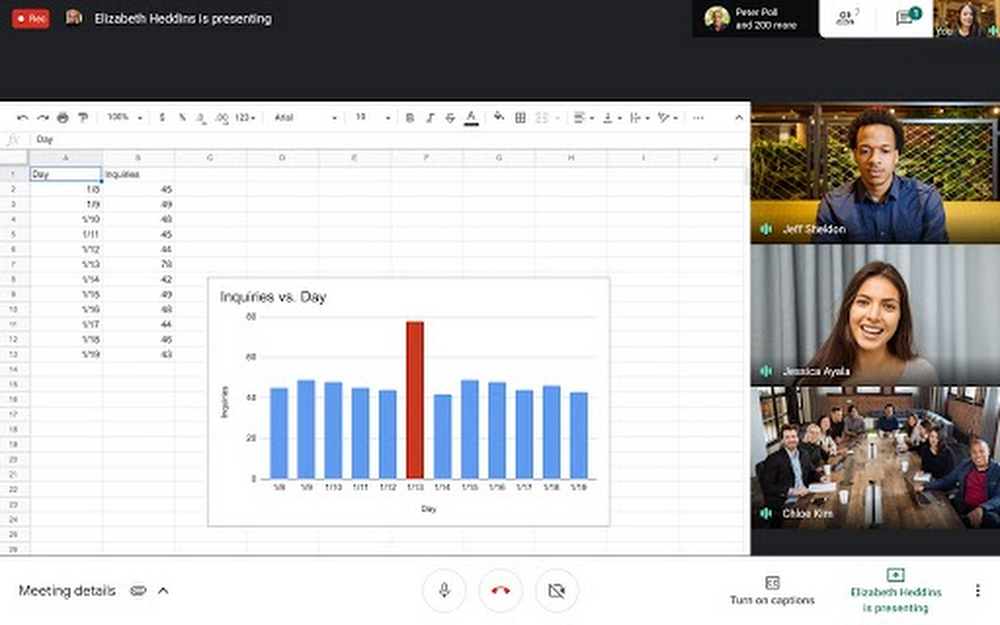 Our approach to security is to make our products safe by default, and we have designed G Suite Essentials to operate on a secure foundation, providing the protections needed to help keep your organization safe, your data secure, and your information private. The enterprise security functionality includes data loss prevention (DLP), Security Center, Vault, and more. And all this comes with 24×7 customer support. 
Finally, we know many organizations and businesses aren't looking to make big changes to the way they work at this time. That's why we designed G Suite Essentials to integrate with the tools you already use, like Microsoft Office, Slack, and Salesforce. For example, if you send a link to a Drive file from Outlook, Drive automatically checks to ensure that the recipient has access to that file. It will let you know if a coworker is about to make conflicting changes to a Word, PowerPoint, or Excel file. And an integration with the Outlook calendar makes scheduling Meet video conferences a breeze. 
G Suite Essentials is free through Sept. 30. Signing up is simple—all you need is your work email address to get started, and there's no need for IT to do a thing.
We hope G Suite Essentials makes it possible to keep teams connected and productive no matter where they are.
If your organization needs access to Gmail or Google Calendar, considersigning up for G Suite Basic, Business, or Enterprise. Schools, universities, and educators should considerG Suite for Education.